Discover what all good golf swings have in common in Roland's 30 minute instructional DVD. You'll learn:
__1. Why a good grip is so important
__2. How the connection of the arms and body generate power
__3. Why a level swing is effective and enduring
__4. How your tempo can make a smooth and rhythmic swing
And not to forget the short game, Roland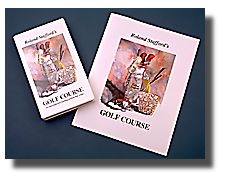 demonstrates the ever dreaded bunker shot, the elusive mechanics of putting, the rhythmic flop shot and some great tips for chipping. The DVD is a great addition to any golfer's library.
To order the Roland Stafford DVD, fill out this form, print this screen and either fax or call us.