At the Roland Stafford Golf School we work with all levels of golfing abilities. Golf is a game that can be played by everyone regardless of size, age or gender. It is however, a game that requires good technique and a lot of practice. Whether you are just beginning or are a player we can help you to improve in a 1, 2, 3 or 4-day golf school.
BEGINNERS Learn the fundamentals of the swing including short game and golf course etiquette. Our instructors are patient, knowledgeable and experienced and will give you the skills and confidence you'll need to continue your quest for better golf.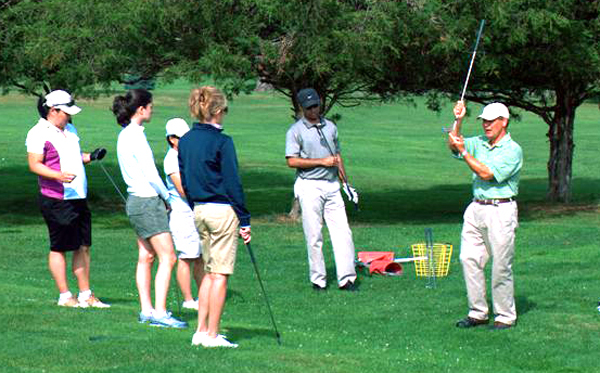 Rich Bowie, PGA Professional with his class of beginners.
INTERMEDIATES Golf is a game of plateau learning. Things can change from day to day or even shot to shot. Our goal is to take you to the next level and develop consistency. By giving you a better understanding of your own swing you will be able to correct your problem rather than asking someone in your foursome.
ADVANCED There is always room for improvement and we have worked with tour players, golf instructors and low handicappers. Learning to find your tempo and making a smooth and rhythmic swing under all conditions should be every good player's quest and we'll show you how. Variables such as wind, lie, rough, fast or slow greens all become factors in shooting low scores, and there are lots of options. Whether you are returning to golf after an injury or just wanting to improve your skills, we can help.
"I have played golf for a long time and have achieved some small level of success. But, I have always lacked the ability to hit the ball as far as most of my competitors. Over the years this has actually made me a better player by putting pressure on my short game.
Thanks to you Susan, with your experienced eye and deep knowledge of the golf swing you have enabled me to hit the golf ball longer and more accurately than any at point in my playing career. Thanks. It is fun hitting wedges for my second shot and I may add winning the Club Championship.
Accordingly, I have recommended your school to my friends, male and female and of all skill levels."
Jerry Pascale……..Somerville, NJ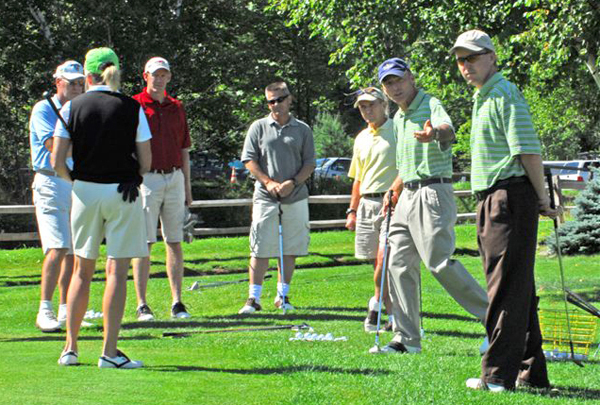 The United States Military Academy at West Point works with golf professionals Susan Stafford, Tom Williams and Colin Fraser to improve their teaching techniques.